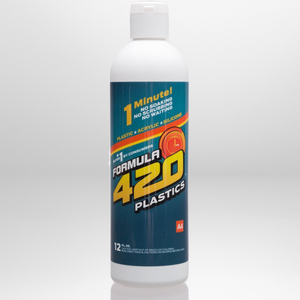 Acrylic Cleaner - Formula 420 Plastics 12oz.
Formula 420 Plastics
This cleaner is super convenient, pour some in and shake for a minute. This solution has little cleaning pellets that scrubs the smoke residue out clean. Recommended cleaning after each use. 
(DO NOT USE AN ALCOHOL BASED CLEANERS)
Alcohol cleaners will eat away your pipe's finish and break down the glue, eventually  leaving you with a cloudy leaky pipe.